A COFFEE SUBSCRIPTION PERSONALIZED TO YOUR TASTE
Fresh roasted single origin coffee subscription that connects you to your coffee farmer & contributes to sustainable livelihoods for them.
COFFEE SUBSCRIPTIONS PERSONALIZED TO YOU
START WITH AN EXPLORER KIT
Five coffees from around the world
DO A COFFEE TASTING
On Zoom or self-guided!
SET YOUR PREFERENCES
Pick your subscription profiles
DISCOVER NEW COFFEES
similar to the coffees you loved
THE ONLY SUBSCRIPTION PERSONALIZED BY A MYSTERY TASTING EXPERIENCE
"By doing the tasting it opened me up to new flavors that I didn't expect to enjoy. I'm normally a blonde or a medium roast but. I think im opening up to more"
- Sarah, CA
Follow our step-by-step guide to do a tasting at home, whether you have 10 minutes or 30!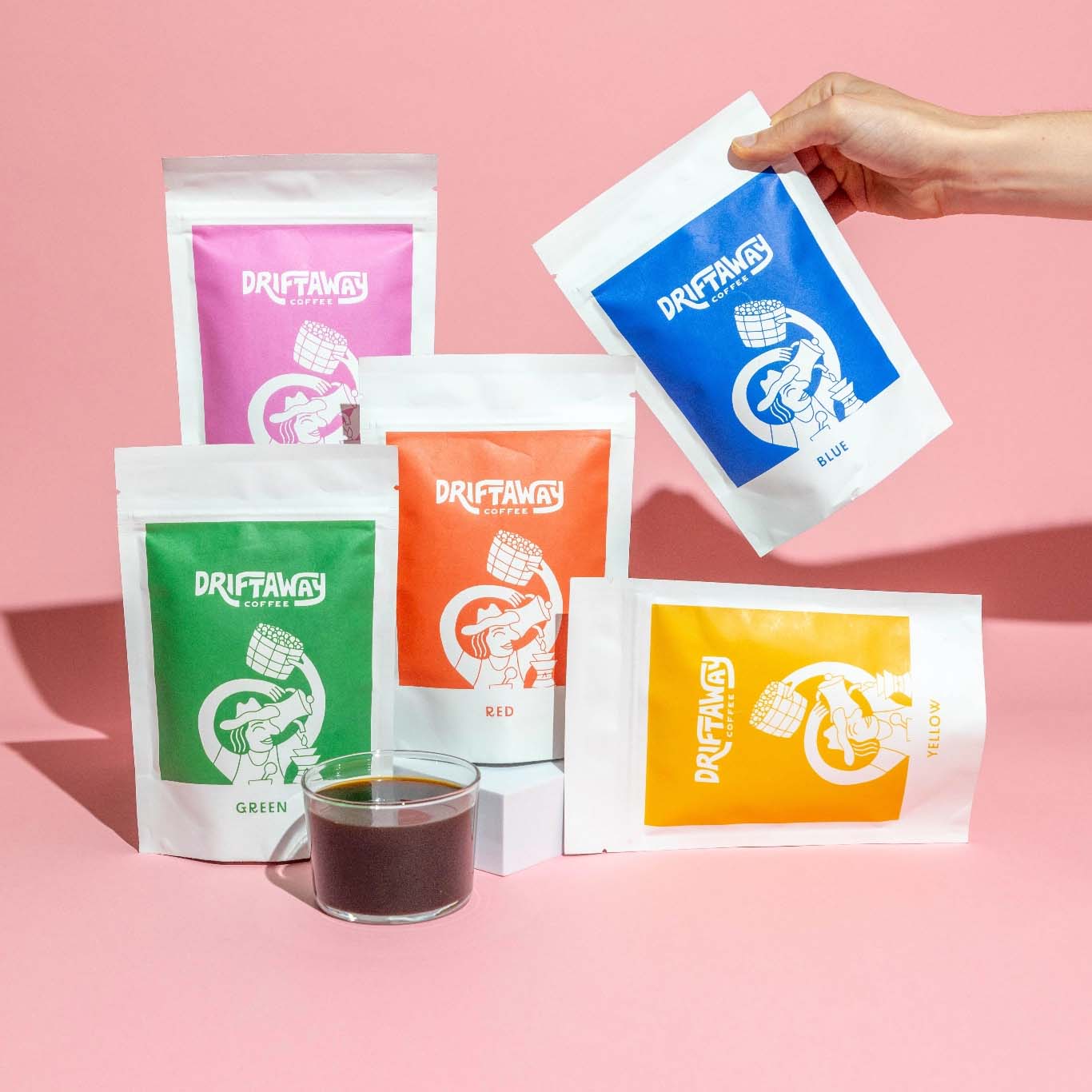 WHAT'S IN THE COFFEE EXPLORER BOX
FIVE COFFEES FROM AROUND THE WORLD
Coffee information is hidden so you can taste without preconceptions, and a Grind Sample is included to calibrate your grinder (whole bean only).
TASTING FORM & FLAVOR WHEEL
Use this to record your tasting notes and observations in the self-guided tasting or the weekly Zoom tasting!
ENVELOPE WITH POST CARDS
The coffee names, tasting notes and other details are in this envelope. Open it when you are ready to know about the coffees! 
WHY YOU SHOULD CHOOSE DRIFTAWAY
NEVER RUN OUT WITH CONVENIENT HOME DELIVERY
Choose from a variety of sizes and replenishment frequencies to customize your subscription to how much you consume. Then sit back and enjoy the coffees coming to your mailbox!
SUPPORT AND CONNECT WITH SMALL COFFEE FARMERS
All coffees are bought from smallholder coffee farmers. All deliveries ship with their stories and give back to farmers through our sustainability programs.
GET COFFEES YOU LOVE WITH OUR PERSONALIZED SERVICE
New coffees are released every month in your favorite profiles, so you'll never get bored with the same coffee. Discover new origins and coffees that appeal to your taste buds.
FRESH, DELICIOUS, SINGLE ORIGIN COFFEES SHIPPED FAST
All our coffees are traceable to a single origin, and roasted every Sunday, so you enjoy the unmatched aroma and taste of fresh roasted coffee.
COFFEE EXPLORER BOX REVIEWS
@nikkikharmendie
"We finally broke into some of it this afternoon and it included this awesome postcard that told us about the bean, the farm the coffee came from, etc.
Super cool getting to try some unique coffee flavors and learn where they came from too 💜☕️"
@jesserobertscott
"Diving in to some new coffee this morning! Received this awesome @driftawaycoffee assortment in the mail, with freshly roasted beans stemming from Brazil, Colombia, Peru and Tanzania. Kicking things off with the Brazil on my @hariov60."
@married2munchies
"Here is one of our Christmas presents. A subscription to @driftawaycoffee. We love being able to try different choices from all over the world. Each sample comes with its own little postcard about the code and region."
SUBSCRIPTION MANAGEMENT MADE EASY!