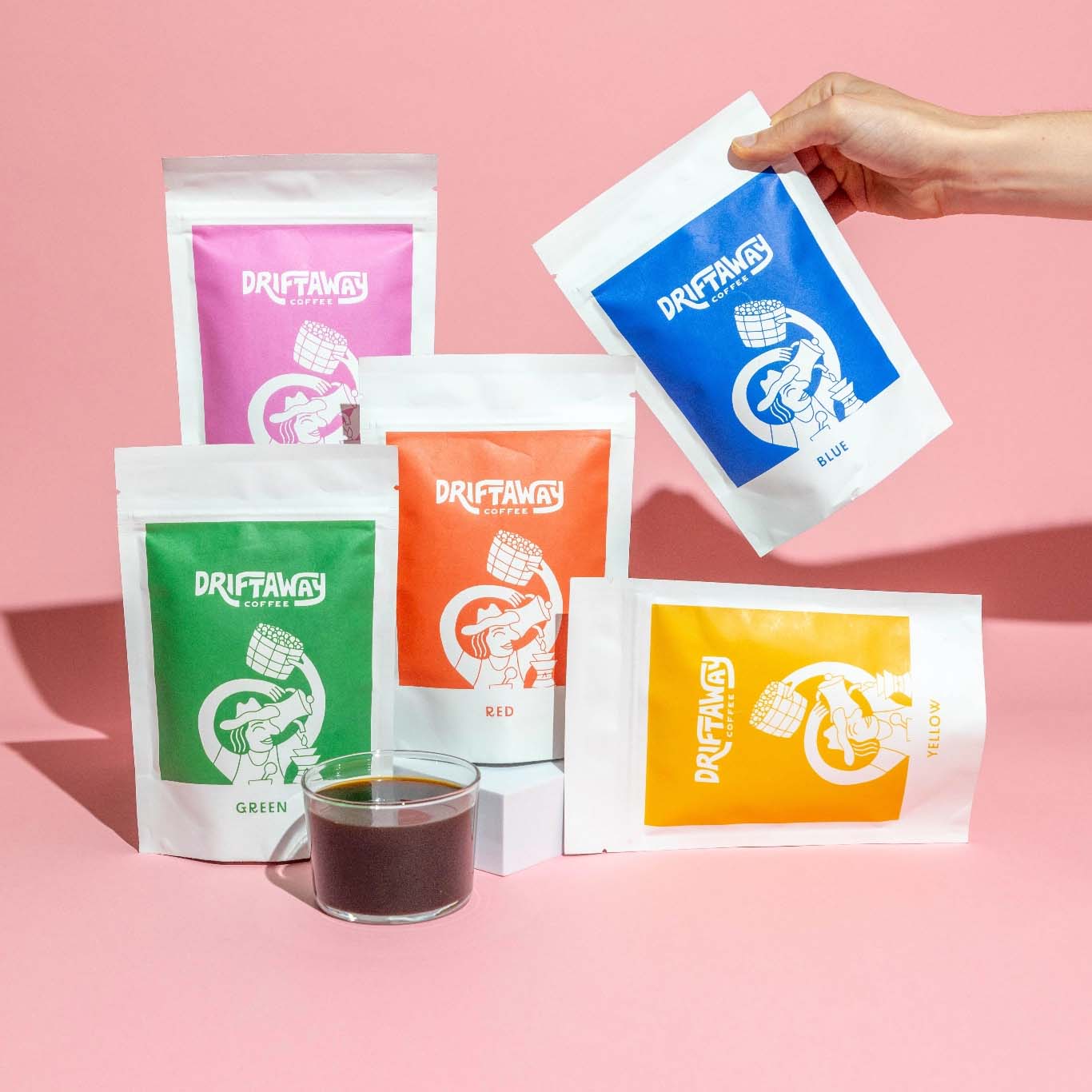 What's in the Coffee Explorer Boxes*
Five Coffees from around the world
Coffee information is hidden so you can taste without preconceptions, and a Grind Sample is included to calibrate your grinder (whole bean only).
Tasting Form & Flavor Wheel
Use this to record your tasting notes and observations in the self-guided tasting or the weekly Zoom tasting!
Envelope with Coffee Cards
The coffee names, tasting notes and other details are in this envelope. Open it when you are ready to know about the coffees! 
*Only in the Small & Medium Explorer boxes
Join our Virtual Tastings
Taste your coffees with our coffee educator & 2013 World Brewer's Champion, James McCarthy, during our Zoom tastings every week!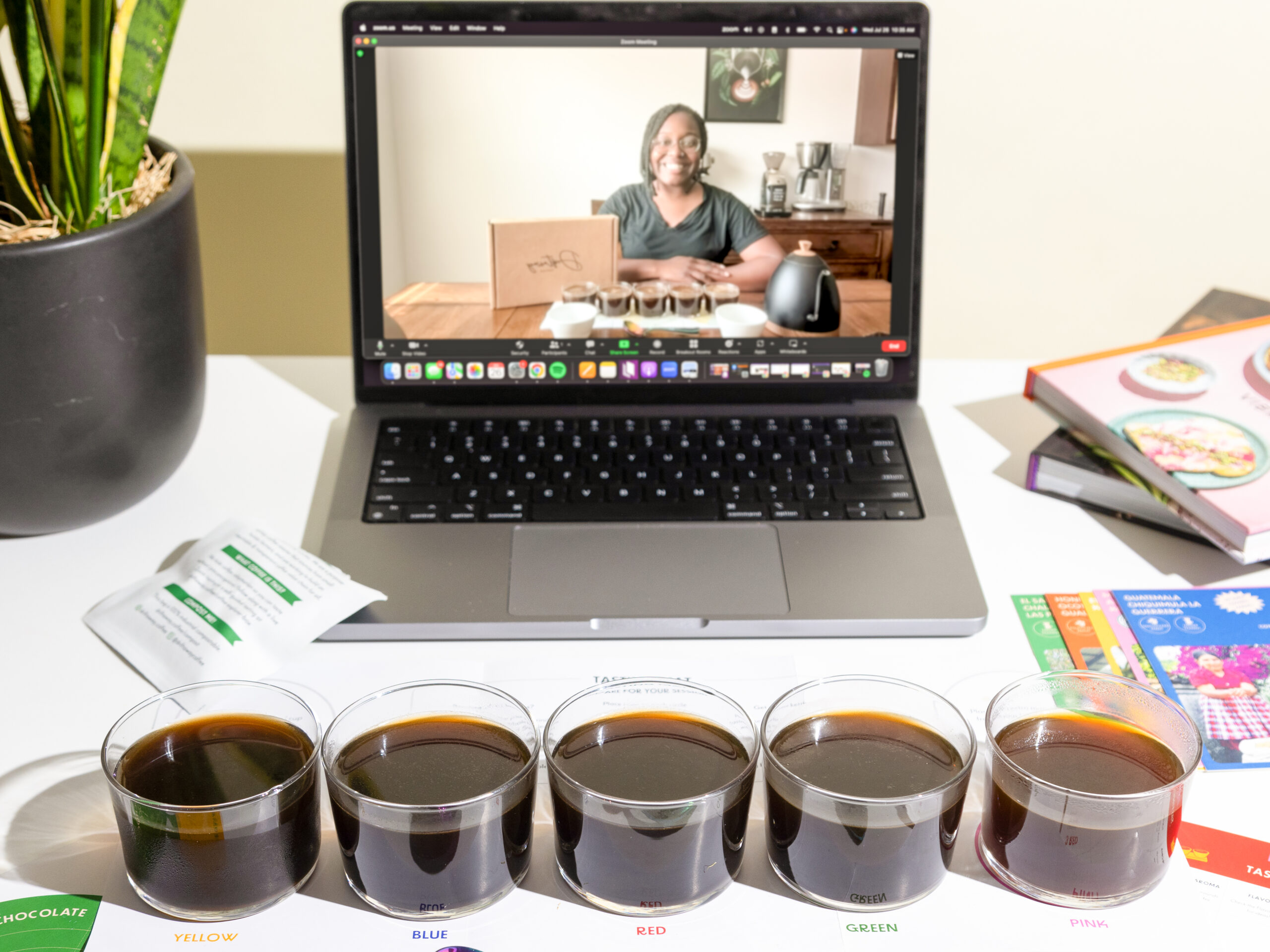 Get a Subscription instead!
All subscriptions start with an explorer box - future deliveries are personalized to your favorite profiles from your starter explorer box!
Coffee Explorer Box
$33.00 – $80.00
Coffee sampler with 4 different coffees, each with a unique taste profile.

Contains all 4 of Driftaway's profiles: Fruity: a light roast from Africa, Classic: a medium roast from South America, Balanced: a light roast from Central America and Bold: dark roast from around the world.

Freshly roasted, whole bean or ground, single-origin coffee

Each bag contributes to sustainable livelihoods for coffee farmers.

Roasted and shipped from Brooklyn, NY

Free shipping!
Description
A global set of meticulously roasted, single-origin coffee beans in a connoisseur-worthy sampler. Get a set of five single-origin coffees, one with each of the following flavor profiles:
Fruity: Light roast, usually from African origin countries with fruity and floral tasting notes. Classic: Medium roast, usually from Central or South America with nutty tasting notes. Balanced: Light-medium roast, usually from Central America with chocolate-y and fruity notes. Bold: Medium-dark roast, usually from Central or South America with dark cocoa notes. Extra Bold: Dark roast, usually from Africa or Central America with smoky and toasty notes. The specific countries of origin vary with the seasons, harvesting conditions, etc. Each type of bean is carefully chosen when green, then meticulously roasted in Brooklyn, to bring out its ideal flavors and nuances. A postcard with info on the coffee farm/producer, roaster's tasting notes, and facts about the coffee, is tucked into each box. Roasted in Brooklyn.
Additional information
| | |
| --- | --- |
| Weight | N/A |
| Dimensions | N/A |
| Size | Virtual Tasting Kit, Small (2 OZ x 5), Medium (4 OZ x 5), Large (8 OZ x 5), Extra Large (12 OZ x 5), XX Large (1 LB x 5) |
| Grind Type | Whole Bean, Fine (for espresso, moka pot), Medium (for drip, aeropress, pour over), Coarse (for french press, percolator) |
Free US shipping
The sizes mentioned above are the total weights of all bags in the kit.
Small = Five bags of 2 oz each
Medium = Five bags of 4 oz each
Large = Five bags of 8 oz each
Extra Large = Five bags of 12 oz each
XX Large = Five bags of 1 lb each
What's in the Small & Medium explorer boxes: Five coffee bags with no origin identifying information, tasting form & wheel,  postcards telling the story of all five coffees (hidden in an envelope)
What's in the Large, Extra Large & XX Large Explorer boxes: Five coffee bags with origin information visible, postcards telling the story of all five coffees
Please note, its not possible to substitute any coffee profiles / roast levels. The explorer box has 5 coffees from around the world - ranging from light roast, medium roast to dark roast.  If you only want specific coffees, you can get single bags of specific coffees here.
We started this company out of an urge to create. Create something we were passionate about. Something we could be proud of. And for our need for and interest in great coffee.
Over the last 5 years, we've worked diligently to not just create an exceptional product, but to do so in an environmentally and socially conscious manner. We strongly believe that we have a responsibility to the people and the planet. That's why we are doubling down our efforts to put sustainability at the core of what we do.
We are really happy that you are joining us on this journey. More >